Maximizing Lead Conversions: How to Turn Leads Into Paying Customers
Turning leads into paying customers isn't easy, but following a few simple steps can help increase your sales. From building your authority to creating a consistent sales process and solving your leads' problems, discover how to go from lead to sale with these 5 effective steps.
Build Authority With Your Welcome Sequence
Your welcome sequence is the most opened emails you'll send. This is when your new lead is the most excited about you and what you offer. This is why you want to use your welcome sequence to show your new lead how you can help them. Here are a few tips on what to add to your welcome sequence to build that know, like, and trust factor:
Personality! From the very first email you send, put your personality in there. Make it fun! Make it you!
Quick Solutions: Know your ideal customer's problems and give them quick tips to help them solve a problem they're struggling with.
Links to Content: As I said, this is when your new lead is the most excited about you. They're going to want to hear what you have to offer. Add links in your welcome sequence to some of your best content. You can even create content specifically for your welcome sequence.
Customer stories. Showcase successes from your customers and share their testimonials and wins they've got from your products.
By providing a helpful, informative welcome sequence, you will make more an impression on your new leads and increase the chances of them becoming paying customers.
Automate A Follow-Up Sales Sequence
After your welcome sequence, set up an automated sales sequence for a lower-priced product that will solve your new lead's next problem. You've solved a problem with your lead magnet, now what do they need? An automated follow-up will increase the chances of the leads making it further through the funnel and into a conversion. 
Email Frequently with Different Calls to Action
You want to keep your leads engaged now that they're on your list. You want to continue to nurture the relationship, build trust, and give them ways to engage with your content and opportunities to buy from you. 
You can do this by using a variety of CTAs (calls to action) in your weekly emails. Here are a few examples:
Watch this video
Listen to this podcast
Read this article
Take this survey
Check out this infographic
Watch my latest reel
Buy this new product
Become a member
Use your discount code
As you can see, these CTAs give your leads various ways to engage with you and your business AND buy from you!
Solve Your Leads Problems
Solving your leads' problems is a surefire way to turn them into customers. Your leads will appreciate it when you offer solutions to their problems and make it easier for them to find the answers they need. Use customer feedback, surveys, and other resources to help get an understanding of what kind of they're struggling with. One of my favorite ways of doing this is adding a one-question survey to my lead magnet Thank You page.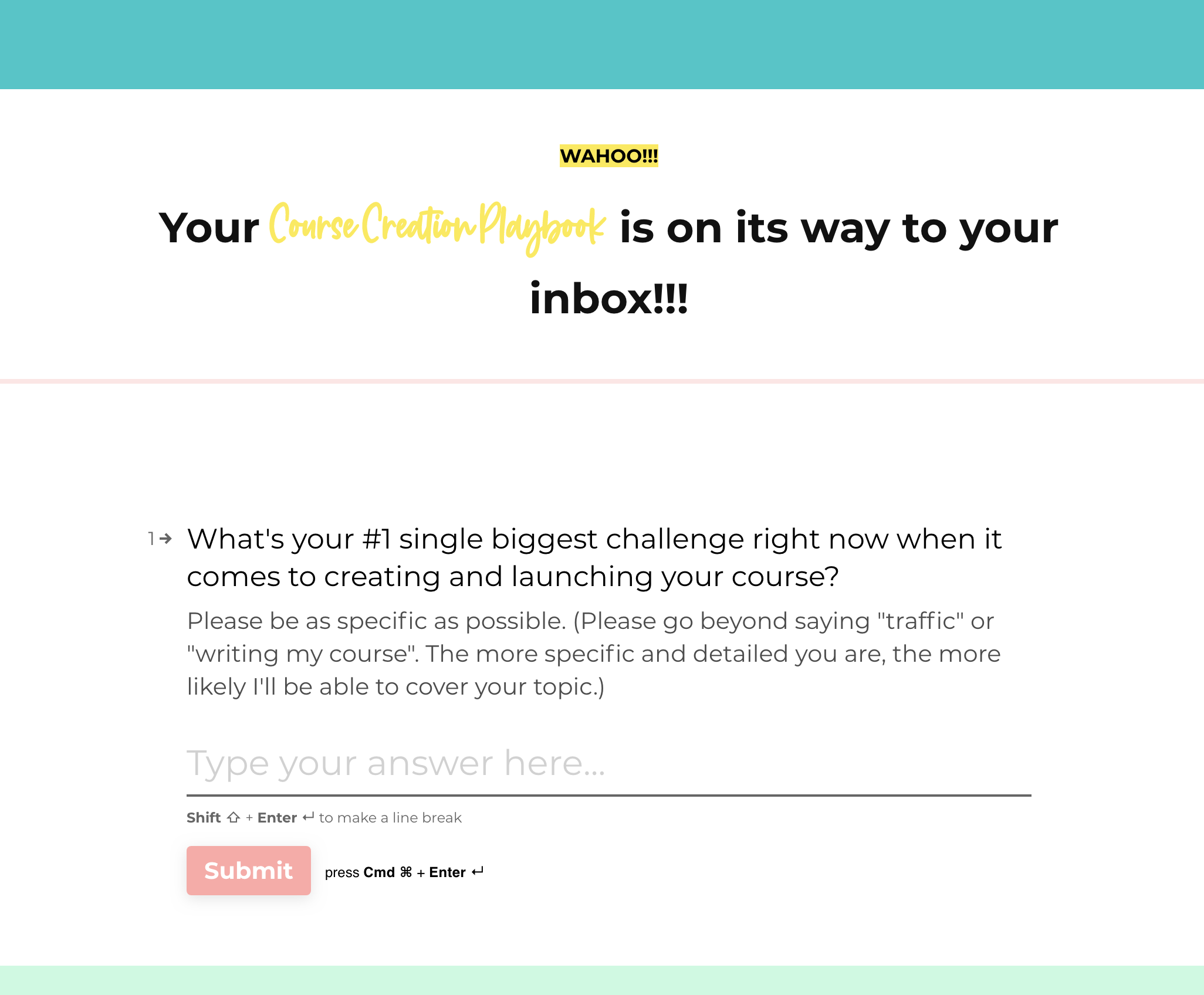 I've collected tons of data just from this one simple trick! You can then customize your messages and provide tailored content related to their interests. This helps build trust with potential customers and increases the likelihood of them becoming paying customers.
Send Monthly Sales Emails
One thing most new entrepreneurs fail to do is put their offers in front of their audience. They either don't think of it or are afraid of sounding salesy. If you want to have a business, you have to sell your products! One simple way to do this is to send a one-off sales email each month promoting one of your products. 
Remember, if you're emailing them consistently with free content and tips, one email isn't going to be salesy.
If people unsubscribe, don't worry about it. You don't want them on your list anyway if they're never going to turn into a customer. You're running a business, you have to make money!
The marketing rule of 7's states that a potential customer must see a message at least 7 times before they'll be provoked to take an action.
Your leads need to see your offers! I challenge you to send an email to your list today promoting one of your offers. Talk about how your offer will solve the problem they're struggling with, and add in a testimonial or two.
If you implement these 5 simple steps (or try a few), I promise you'll see your leads turn into customers!