Sales Funnels Simplified | What's A Sales Funnel & Why You Need One In Your Business
If you've been in the online business world for any amount of time, I'm sure you've heard the term "sales funnel." If you've been wondering what in the world a funnel is or you're confused by what it is, keep reading!
A sales funnel is a visual representation of the steps a potential customer goes through before making a purchase. It's called a funnel because it starts large at the top with a large number of potential clients. As you move down the funnel, the funnel gets smaller, as does the number of actual customers at the bottom.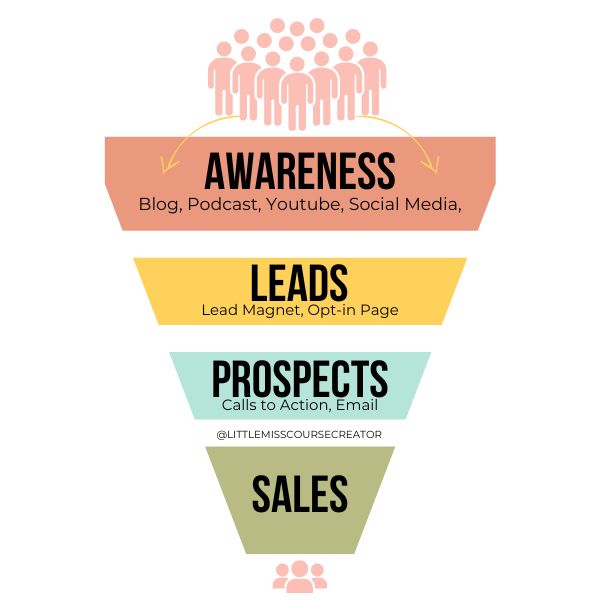 As potential customers move through a sales funnel, they move through different levels. As they move through the funnel, they get closer to becoming customers. In the graphic above, you'll see in each level the different tools you'll use to move potential customers to the next level in the funnel.
Let's dive deeper into the different stages of the funnel.
Stage 1: Awareness

When I first started my business, I constantly heard, "You got to create consistent, weekly content." So, I decided I'd start a podcast. I didn't know anything about sales funnels at the time, but I sure wish I had. I was creating content because that was what I was supposed to do. It was supposed to build the "know, like, and trust" factor with my listeners. However, because I wasn't aware of what a sales funnel was, there was no strategy behind it. I was just sharing what I knew. Once I learned about sales funnels, I realized there was a strategy for creating content.
You see, your Awareness content should be guiding your potential customers through the funnel. Not only should it build the "know, like, and trust" factor, but when planned strategically, you'll move people through your funnel. 
Your content should not only bring awareness to you and your business, but it should make your fans aware of your products and services as well.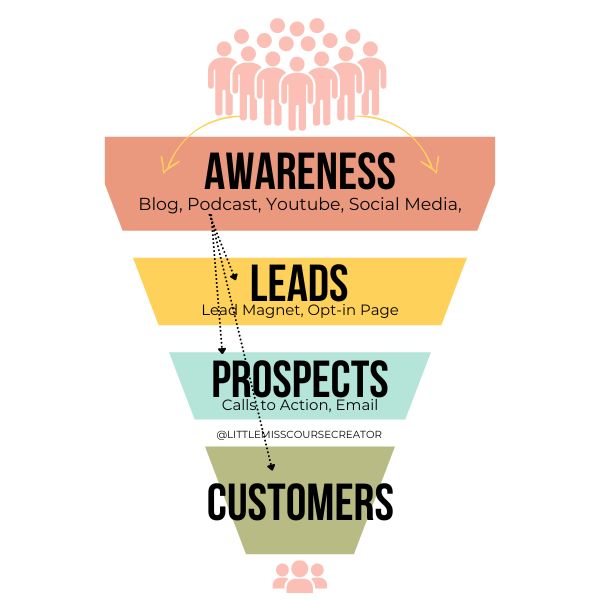 You'll see in the graphic above the awareness stage is leading your fans to different levels of your funnel. Depending on what you're currently doing in your business will guide your content.
For example, if you have a launch coming up, you're going to be focusing your content on the people who are already further in your funnel. You're going to be focusing on moving them from leads/prospects to customers. 
When you're not in a launch or pre-launch, you'll be focusing on creating awareness and moving the consumers of your content into leads. 
To sum it up, your awareness content can be used to move your potential customers through all the different levels of your funnel, not just into leads.
Stage 2: Leads

The next stage in the funnel is turning your content consumers into leads. A lead is someone who has opted into your email list. You'll do this with a lead magnet and an opt-in or landing page. You'll also hear this called a squeeze page. 
Here's an example of a landing page. You'll see it has a picture of the lead magnet and an opt-form.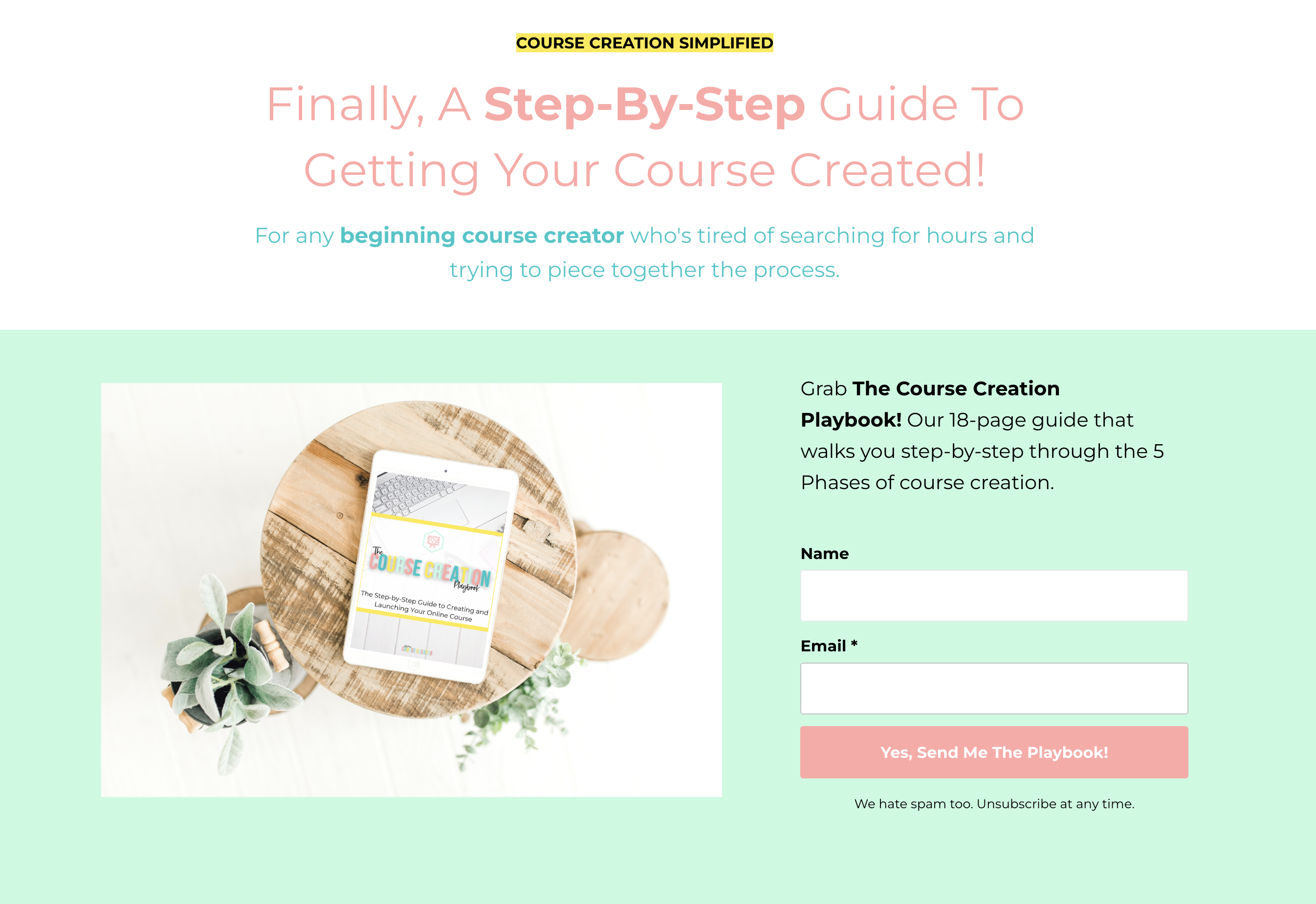 To turn content consumers into leads, you'll create a lead magnet, aka freebie, that solves a problem they're currently having. The key to moving your prospective customers from lead to prospects starts with your lead magnet. You want your lead magnet to solve one of the first problems your leads are experiencing BEFORE your course or product. 
When they get a small win from your lead magnet, they'll be ready to take the next step in solving their problem, which will be your course or product!
Stage 3: Prospects

Once you've got someone on your list, now they become a prospect. They've shown interest in your topic and you, and they've made their first investment in you…giving you their email address. This is no small feat. Think about it. When someone asks for your email address, what do you do? I'm guessing you probably hesitate and really think about it before giving it out. We don't want more junk in our inboxes. 
Your email list is the most valuable thing in your business. As I said, these people have invested in you and want to hear from you. Now you can continue to nurture the relationship in a more personal way. Treat your list like your bestie and value them for being there. You'll want to send emails to your list that nurture this friendship and continues to build your authority and the know, like, and trust factor. 
Inside your emails, you'll turn your leads into prospects by building this relationship. You'll want to use calls to action or CTAs in your emails. These can lead to your content, an article or video that would be helpful, or your product. 
Here's an example of CTA from one of my emails:

Besides just teaching and giving tips, you'll also want to send emails to your list about your products, case studies, or testimonials. This is how you'll move them from leads to prospects, then to customers.
Stage 4: Customers

Through all of your content, your lead magnet, and your emails, this is how you turn your potential customers into customers! All of the pieces of the funnel work together to get to this point. 
A key thing to remember when it comes to customers is just because they become customers doesn't mean you quit building the relationship. This is the stage where you continue to build the relationship. This is how you turn customers into raving, loyal fans. 

Let's Sum It Up
As you can see, a sales funnel is how you get people from getting to know you, to building a relationship with them, to turn them into customers. If you think of a sales funnel as a dating relationship, you can see why it's so important. You don't ask someone to marry you on the first date, right? You spend time together, become friends, go on your first date, continue to date, and eventually get married. The same is true for making a sale. You don't ask for a sale at the very first meeting. Through the funnel, you'll build the relationship, ask for the first commitment (their email address), continue to nurture the relationship, then ask for the sale.
This is why every business needs a sales funnel!
Here's another post on marketing you might find helpful